1938 Ahrens Fox HT Pumper

The HT was Fox's last attempt to sell the piston pumper. Manufactured from 1937 to 1952, a total of 65 were produced. With it's 935 cu. in. Hercules 6 cylinder engine and a four speed overdrive transmission, the truck can run 65mph easily.

The 6 cylinder piston pump was rated at 1000 gpm, but departments routinely got 1300 gpm during pump tests. Our example is unusual, being the last HT produced with single rear tires. It was the 25th unit off the line, serial number 3445. It also has a specially ordered 6 volt Oldsmobile clock in the dashboard.

In July of 2009, the HT went home for a visit. On the way to Indianapolis for the national SPAAMFAA muster we stopped off and gave the active and retired FFs in Sandusky a chance to see their old truck. We photographed it in various spots around town where it had been photographed years ago- it was a great trip.

"The truck is a blast to drive. It has lots of power and, with no muffler, a great sound. Second gear is always a challenge but it'll run 65 mph on the radial tires we put on all day long. At the track they made us all go slow, but we did manage to zoom it up to 40 mph just after the photo was taken" (that's Museum Founder Doug Klink behind the wheel).

We've also pumped it several times. It flowed about 800 gpm at 1000 rpm through a deluge set. We're going to try it with a bigger tip next time- but we'll have to secure a larger water supply!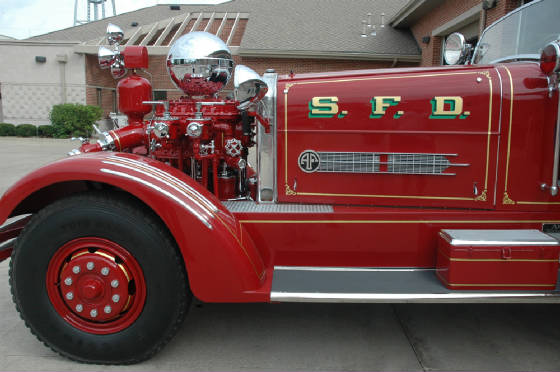 Seated behind the mammoth engine and pump, the driver
is halfway between the front and rear axles- a trick to drive!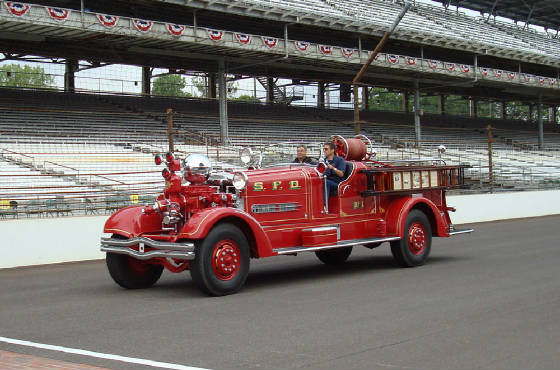 The HT crosses the finish line at the Indy 500 Speedway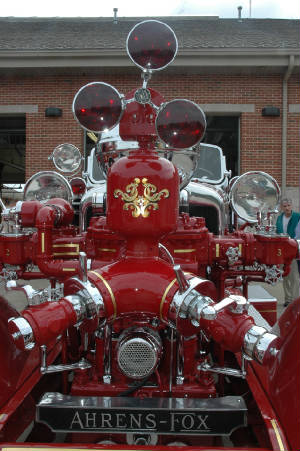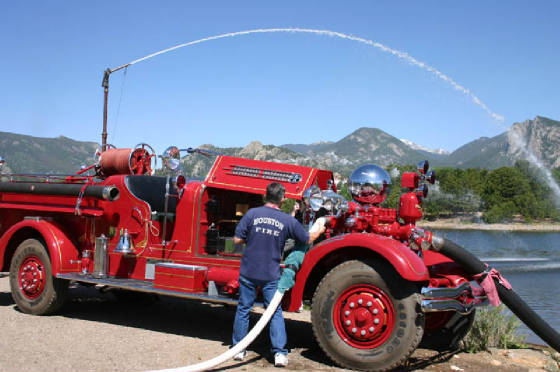 At the 2010 SPAAMFAA Summer Muster, the HT is supplying water to the 1902 Femco Water Tower (in background).
Houston's Chuck Buschardt operates the truck.