Collinsville Illinois purchased this Ahrens Fox pumper in late 1924 and it was delivered in 1925. An example of the model J-S-4, it sports a six cylinder in line T-Head gasoline engine with the cylinders cast in pairs. The engine has a 4.75" bore and a 6.5" stroke. The pump is a four cylinder Ahrens Fox piston pump rated at 750 gallons per minute.
Collinsville utilized the truck until the early 1960's, at which time it was sold and wound up as a piece of playground equipment at a nursery school in St. Louis. Collector Larry Zotti located the truck in the 1990's and the Collinsville FD bought it back. Unable to get a restoration going, Larry bought it from them in 1996. The Reliance Fire Museum bought it from Larry in 2000.
Restoration began in 2009 and took 2 years and approximately 2000 man hours.
In this photo, taken in front of the Collinsville fire station, Joseph Ahrens of Ahrens Fox is standing next to the rear tire. Note the round window above the truck.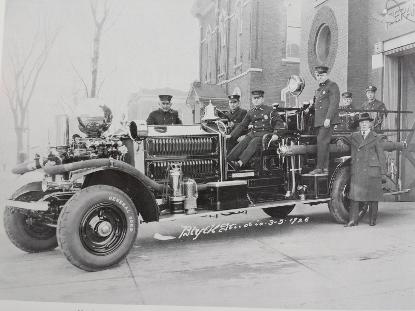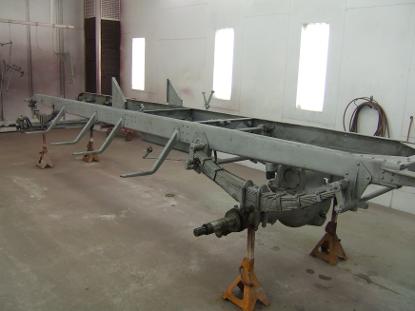 The truck was in rough condition when found due to many years exposed to the weather, humidity, and acid rain in St. Louis. The frame was rusted though in the right front area below the radiator and many parts were missing.
Restoration began by stripping the truck down to the frame and sand blasting all the components. Her the frame is prepped for paint.
September 2014
Retired Collinsville firefighter Roy Lochmann, 84, returns the axe he removed from this truck when it was retired in the early 1960s!
One of the first paid firefighters in Collinsville, Roy told us he used to sleep on the seat of this truck because the City fathers took the beds out of the fire station feeling that they should get 24 hours work for 24 hours pay.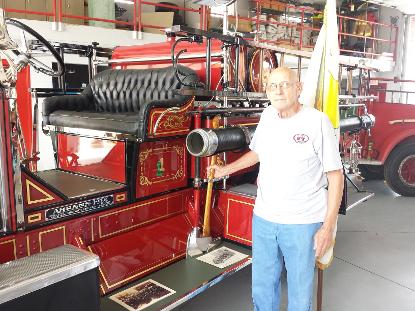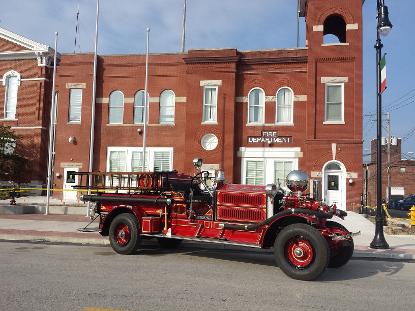 The restored truck in front of it's old firehouse in September 2014. Note the round window above it as seen in the 1926 photo at the top of this page.
1925 Ahrens Fox J-S-4 Pumper