1938 American LaFrance 400 Series Sedan Pumper

This rare truck is one of only five 400 series sedan pumpers built, and the only one that still exists.

Serial number 7838, it was delivered to Topeka, Kansas in May of 1938. It later served Clifton, Kansas as well.

The truck is equipped with a 750 gpm rotary gear pump, the E V-12, and the special enclosed body with a garage door at the rear.

Three other 400 series sedan pumpers were delivered: three to Brookline, MA, and one to Beaver, PA. We've found a picture of one of the Brookline trucks, appearing at a muster in the 1970's, but can't track it any further than that muster.
We worked on acquiring this rig for about 7 years, and were excited when the owner decided to sell it. He had acquired it in the early 1980's and parked it in a barn where, as you can see, it was wedged into long term storage until the snow melts.

When stored it was fully operational, the paint and chrome were in good shape, and it was in overall excellent condition.

We are hopeful that the engine can be freed up, but the rig will have to be repainted, re-chromed, reupholstered, and the pump checked and possibly rebuilt.

Wish we could have gotten it a decade ago!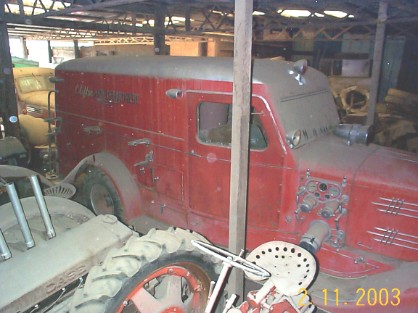 Tucked away in a storage facility for many years before
Reliance successfully acquired this rare sedan pumper.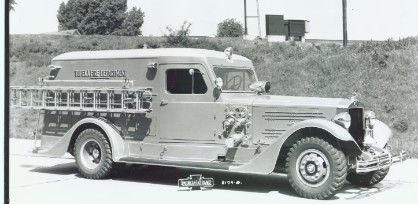 ALF's builders photo in 1938 just prior to delivery to the Topeka FD.